Meet the Nursery team
Mrs Gallagher – Class teacher              Mrs Rafeeq
Please contact any of the team if you have any questions.
If you are interested in a place at our Nursery please contact the school on 01274 410349 and ask for Leanne.
Welcome to Spring Term 2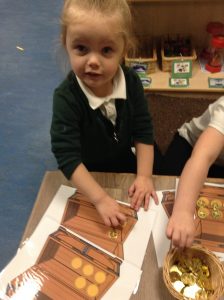 This half term our topic is The Weather
In Nursery we will be looking at the changes in the seasons.  There are lots of changes happening in the nursery garden that we will be able to see like buds growing, ice and frost forming  and new spring shoots beginning to grow.
We want the children to be comfortable and enjoy their learning, gaining new experiences and most of all having lots of fun.
We will also be reading lots of exciting stories like Iris and Issac, The Wind Blew and Tree and many other stories.
We are working on pencil control and writing our names. Also we are learning numbers to 10 and beyond and recognizing numbers.
We are going to be experimenting with things that make us feel hot and cold. Making things with water and freezing it in different shapes.  There might even be a visit from DR Freeze who usually isn't very nice to our Nursery toys and we sometimes have to rescue them.
In the creative area we are going to make weather symbols, mix colours together in the paint and create warm coloured pictures and cold coloured pictures.
Outdoor Areas of Provision
We use out outdoor areas in all weathers so please ensure your child is dressed appropriately.  The children will be looking at the changes happening due to the weather, we  will be looking at the changing seasons and watching the trees change colour, spring flowers growing and exploring frost and ice.  We might even be lucky enough to have some snow to paint on, and make snow men with.
The children will been using the bikes and scooters to continue their gross motor development and climbing and balancing on the Nursery equipment, writing with chalks outside and drawing on the large boards.
We are also working on fastening our own coats up and  putting on our own shoes.
Indoor  Areas of Provision
The areas of provision change each half term to support the learning taking place. We follow the children's interests to make sure they are engaged in the activities and encourage the children to use them independently, supporting when needed learning opportunities.
The older children will be beginning to focus on pencil control and writing their names, with more independence. We count every day and are counting up to 10 and beyond, recognizing numbers up to 10 and above and also shape recognition. This can also be reinforced at home by counting with your child regularly and helping them to hold a pencil with the correct grip and encouraging them to form the letters in their names correctly, and practicing shape recognition.
We also have a new little lending library for Nursery and Reception to use.  You can access it through Reception class door every evening after school.
If you read 7 books you will be able to choose a book to take home and keep. Please use the library to spend time reading at home with your child.