Reading
At Christ Church, we ask our parents to listen to their child read for 15 minutes each day. Not only is this a proven way of allowing a child's confidence and love for books to grow but it's a fantastic way to spend time with your child too! Christ Church follow Read Write Inc. for the teaching of phonics and Oxford Reading Tree scheme for developing reading skills. Their website offers a great deal of resources and advice on learning to read. Click here to visit the website.

Unsure of how you can help your child with their reading? Click on the books below to watch Ruth Miskin, phonics & reading expert, explain how children learn to read and offer her top reading tips. There are lots of games that you can enjoy with your child, as they learn how to read with confidence.

Click on the picture to watch storytellers bring their stories to life.

Oxford Reading Tree E-books are a great way sharing a love of reading with your child and the best part is that they are total FREE!! Click on the picture below to access a number of e-books. Each e-book comes with activities that you can do together which will confirm if your child has understood what they have read.

Storynory.com has a resource bank of audio stories for you to enjoy with your children and family. They release a free audio story every week and have everything from Little Red Riding Hood to Prince Bertie the Frog!

Listen to popular children's authors being interviewed at BBC School Radio.

Reading in KS1
Reading at Home
Reading is hugely important in Year 2 and the children should be doing it at least 4 times a week if not every night. From September children in Year 1 and Year 2 will be working towards achieving their own reading collector badge. It is expected that every child reads at least four times a weekat home and has their reading log signed each time. If you read four times a week and have your reading log signed at home by the end of the week you will receive a sticker for your individual badge. Collector badges are a great way for pupils to save their mini sticker rewards: They can attach the badge to their uniform and wear their collection with pride. Children's badges will be displayed on a pin board in the classroom. Only when the badge is full does the child get to wear it with pride before getting a new colour badge on the pin board.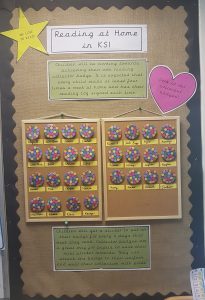 Click here for our KS1 Reading information letter:Reading at Home 1