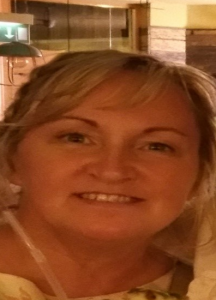 Mrs Gallagher – Class teacher              Mrs Tomlinson
Please contact any of the team if you have any questions.
If you are interested in a place at our Nursery please contact the school on 01274 410349 and ask for Leanne.
Welcome Autumn Term 1
This half term our topic is Getting to know Nursery.
Welcome back everyone.
In Nursery we are going to be welcoming back some of our children form last term and then getting ready for our new starters, who are beginning their journey at Christ Church Primary Academy.
The children will be doing lots of learning and having fun while we all get to know Nursery.  We will be finding out how to use the Nursery areas and equipment, what kind of things we can do in each area, and getting to know staff and children, building friendships together.
We are also going to be keeping safe in our bubbles, and learning all about hygiene, washing hands as often as possible.  Using tissues to catch germs and how to stop germs spreading around Nursery.
The children will be learning how to look after the toys and equipment and how we play but also tidy up our things after we have finished with them. We will be doing lots of Autumn activities, painting leaves, using Autumn colours, making hedgehogs, collecting leaves and exploring pumpkins, pine cones and conkers.
Outdoor Area Of Provision
We use out outdoor areas in all weathers so please ensure your child is dressed appropriately.  We go outside even in the cold and rain as the outdoor area is an extension of our classroom, and invaluable to our learning.
The children will been using the bikes and scooters to continue their gross motor development and climbing and balancing on the Nursery equipment, writing with chalks outside and drawing on the large boards.  Using the mud kitchen to dig, pour and mix and this can get very messy at times.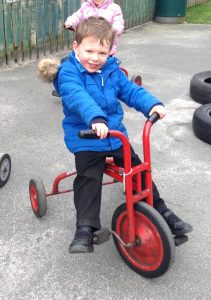 .
We will be working on all of the children becoming independent learners, they need to practice putting on and fastening their own coats, taking shoes and wellies on and off. Hanging up coats and bags on their pegs.
Indoor Areas of Provision
The areas of provision change each half term to support the learning taking place. We follow the children's interests to make sure they are engaged in the activities and encourage the children to use them independently, supporting when needed learning opportunities.
The older children will be beginning to focus on pencil control and writing their names, with more independence. We count every day and are counting up to 10 and beyond, recognizing numbers up to 5 and above and also shape recognition. This can also be reinforced at home by counting with your child regularly and helping them to hold a pencil with the correct grip and encouraging them to form the letters in their names correctly, and practicing shape recognition.
We also have a new little lending library for Nursery and Reception to use.  You can access it through Reception class door every evening after school.
If you read 7 books you will be able to choose a book to take home and keep. Please use the library to spend time reading at home with your child.
We also have  Facebook page which also has lots of information about the school with all the information about what is happening from day to day.