Summer 2  Term 2021
Welcome back to a new term in Reception.
Mrs Goodall and Mrs Broadbent will both be here to assist you this term as we start a new topic.
Our Topic this term is…
It's Good to be me!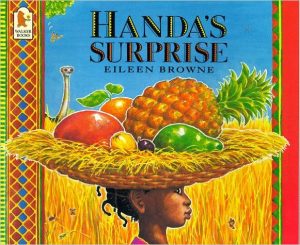 We will be finding out how we can keep in the best of health by eating lots of healthy food and keeping active. We will find out which are our favourite fruits by having a taste of lots of different ones. We will be starting off with the story of Handa's Surprise.
Your teacher is Mrs Goodall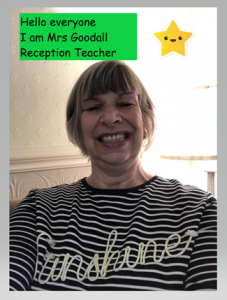 You will also meet….
Mrs Broadbent

We are both here to help you and your children as they work through the Reception year.
Useful Information
Children can choose to be indoors or outdoors throughout the day. It is important that they always bring a coat so that they can play out when they want to.

Please ensure that all clothing is named.

Be prepared – children will take part in some messy activities. We do provide aprons but sometimes clothes do get dirty.

Children can go to the toilet as and when they need to go, but accidents do sometimes happen- we have spare clothes for such incidents. (any donations of knickers and undies would be welcomed)

All children have their own coat peg and drawer. Please encourage your child to find their own peg by looking for their name and then they will know where to find their coat when they need it.

Children can put any work to go home in their drawer, to collect at the end of the day.
What will the children learn?
The children will learn our big question
How can I be a positive member of my class?
This will involve learning to be a good friend to others, always being ready to  learn and being respectful of their surroundings.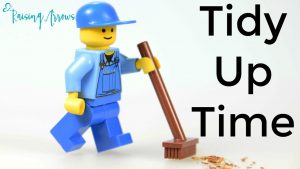 The children will learn to look after the classroom, putting things back in the correct place when they have used them, putting lids on pens and glue sticks and taking care with items such as books.  Tidying is important and we teach the children that it is every ones job. If we all work together it does not take as long.
Maths
This term we will be learning about measuring  for size, weight and capacity and also time. We will use sand timers to set up timer challenges such as how many times can you write your name in 1 minute. You will also be able to take part in the stacking cups challenge to see how quick you can complete the stacking cups tower.
We will have lots of fun playing with the water this term when the weather is warm we can do this outside
We will find out who is the tallest and who is the shortest in our class.

Literacy, Communication and Language
Writing
We will learn to write instructions for how to make a banana sandwich and then we will follow our instructions when we make our own sanwiches.
We will start to write longer sentences now children are becoming more independent with their writing they will be able to write their own stories too.
Children have now learnt to read a lot of tricky words so I expect children to use these words now in their writing too.
Language, speaking and listening
The children are taking part in regular circle time sessions, where they learn to listen to others. The rules are that only one person can speak at a time and good listening means you look at the person who is speaking. The children are getting better at sitting still with tidy hands and crossed legs. We are practicing speaking in sentences, often with everyone repeating the same sentence stem, so that less confident children have a model to follow and then everyone can join in.
You can help at home by repeating what children say but in a full sentence and correcting any errors. In this way children will recognise correct speech and will have lots of good role models.
Our topic this term is: It's Good to be Me!
The children will  answer the question; How can I be the best I can be?
As well as eating and finding out about healthy foods we will have a role play Cafe in our class room so the children can act out being waiters and waitresses and going to a cafe.
The children will think about all they have learnt this year and look forward to next Year as they prepare to move to Year 1
Our focus stories and books this term are :
RE
This term we will be finding out how Christians believe that God created the world and everything in it.
We will read The Creation story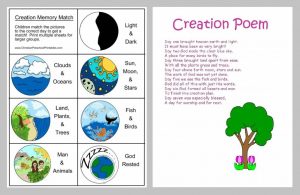 Reading
Thankyou to the parents who have been listening to their children read at home. Evidence shows that it does make a huge difference with the development of children's reading skills.
Many children are now bringing books home with words. We have enclosed the new words in an envelope along with the book, so that the children can practice words they might not have learnt at school and they will not be phased when they come across them in their home reader.
It is very important that children understand what they are reading and we can check this simply by asking them questions about  what they have read. Please ensure children read the same book many times so that they become confident and more fluent at reading. Check reading skills by asking them to spot words on a page. For example
Can you find the word said?

or

What does this word say?
Please continue to practice the common exception words for Reception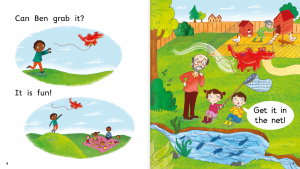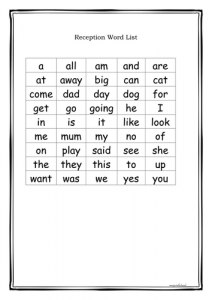 Phonics
Our Read Write Inc sessions are now well under way and the children have been taught all the set 1 sounds in the chart below.
Many children are now learning when 2 letters can make 1 sound. We call these letters special friends and children have to spot them in the words they read. For example in the word
fish

the special friends are the s and the h and together they say

sh

. You can help at home when you come across a word like this, by saying "look for the special friends in this word" as a reminder. At school we show the special friends in a word by underlining them, but obviously children need to learn to spot them without this aid.
Some children are still learning to hear the individual sounds in words. We play games called Fred games using Fred the frog to help us hear the sounds as we Fred talk the words. You can play these game at home too.
Here is an example:
Play Fred says touch your l e g and the child has to be able to hear the word leg and respond by touching their leg.
Repeat with other parts of your body(spelling doesn't matter as this game is all about sounds) so you could say h e d for head
Try these words  ch i n, f oo t, n e ck, l i p s, kn ee, wr i s t, th u mb, ch ee k, ar m, t u mm y, b a ck 
I spy with my little eye is also good to adapt using Fred talk
For example
I spy with my little eye a

c a t.

Children will need to be able to hear the word cat when you say the individual sounds in the word.