Class teacher: Mrs Gallagher
Teaching Assistants:
We have a Big Question in each class. In Year 1 Our Big Question is;
Who am I, who can I be and how do I belong?
We answer these questions in our Topic and RE work.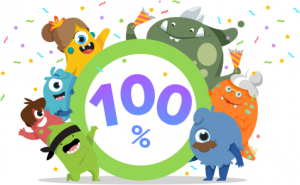 In Year 1, we send home a reading book or ditty sheets for the children to read usually twice a week.
We try to read with the children as much as possible in class. We rely on the Parents and guardians to read with their children at home as many times as they can.
The children read the books in their RWI lessons every day and we encourage the children to read these books at least 3 times at home. We also send home a reading bookbag book which is levelled so that your child is familiar with the words inside. This helps the children to be successful at reading.  There will be a few unfamiliar words just so that the book has a little bit of a challenge in it.
We send spellings home on a Friday to practise and then we teach them every day at school for a week. These spellings are the Year 1 common exception words and will be sent home for the rest of their time in Year 1, so children become familiar with them (we repeat all 45, sending home 5 or 6 at a time for your child to practise)
Books should be brought into school every day.                              
Spellings go home on Friday and are practiced every day of the following week.
PE Is on Monday & Thursday, children come dressed in their PE clothes.
You can catch up with the work your children have been doing by checking DOJO.
We give children Dojo points for all the positive things they do at school. You can also contact the teacher on here, if you have any questions.
Year 1 – Common exception words (see link)
https://www.twinkl.co.uk/search?q=yaer+1+commonn+exception+words&c=244&ca=22&ct=ks1&r=teacher&fa=2.3
The children count every day forward and backwards to the number we are working on for that half term.
During their time in year 1 the children will also work on forming their numbers correctly.
Our maths topics are in the long term plan.
English
We are using the RWI program, which concentrates on the children knowing the letters sounds. Writing the letters sounds.
Knowing how to form letters correctly.
Understanding phonemes. graphemes, diagraphs, and split diagraphs.
It helps the children to write sentences and understand what a sentence contains. This will help the children to develop confidence in their writing.
This is also where we develop a greater depth of reading, and our children will gain success, confidence, and fluency.
Religious Education
As a Christian school our syllabus follows the 'Understanding Christianity Approach' from the Church of England. In RE lessons in year 1 this year we will cover the following topics:
Who made the world?
Why does Christmas matter to Christians?
Who am I? What does it mean to belong?
Why does Easter matter to Christians?
Who is a Muslim and what do they believe?
What is the good news that Jesus brings?
Curriculum
Children will have an understanding of what the future can bring for them. They will learn about different roles that people have in life and think about what that role will be for them. They will build on prior knowledge and learn to be curious and ask questions in order to discover more about themselves. They will begin to find out what they are good at and what they enjoy and learn to use their skills to help them improve and progress.
Our Key questions for the year are:
Autumn 1 – How can I understand the world and my place in it?
Autumn 2 – What makes me special?
Spring 1 – What is an explorer?
Spring 2 – What events have caused change?
Summer 1 and 2 – How do I understand my locality and the changes I see?
Art/DT
The children complete a unit of Art and a unit of DT every term as part of their big question curriculum topic.
We learn about these key artists covering the skills of Painting, Drawing, Sculpture and printing.
Pablo Picasso
Andy Goldsworthy
Computing
In computing we allow children to use computational thinking and creativity to understand and change the world. With links to maths, science and design and technology, computing ensures that children becomes digitally literate, along with being taught the principles of information and computation.