Welcome to Year 2
Here is a sneak peak at what we have been up to…
This year has absolutely flown by and we are now into our final term!
Year 2 have been fantastic this last month with their SATs and they have all done fantastically well. I am incredibly proud of how much they have achieved and their resilience when under pressure. The children were so confident and resilient when it came to the tests and all children wanted to do their very best.
The children in Year 2 are not just working really hard in their lessons this term but we are doing lots of extra activities to learn important skills. The children use sign language to answer the register. Children in Year 2 are given responsible jobs to help our classroom community for example taking the register, handing out the snack and milk, sharpening pencils and much more.
We have been on a trip to Tropical World
We will be continuing work on animals and their habitats. The children will be inspired by literature such as Meerkat Mail and Amazing Animal Journeys. These will inform more fantastic writing.
Growing our own Butterflies
As part of our science, topic and English work we will be growing butterflies in Year 2!
Literacy
In literacy we will be doing all about the Sandpipers to start looking at the Pixar movie entitled Piper all about Sanderlings, a bird that lives on the beaches in the UK and Scotland. The children are using this as a hook for writing a report all about Sandpipers using their research. The children are preparing for some big moderated pieces of writing this half term. We will then be working with the book Meerkat Mail and then Amazing Animal Journeys. 
Below are some fantastic examples of the children's work and the amazing progress the children have made in only one year!!
This is what one of our fantastic year 2 children can do now.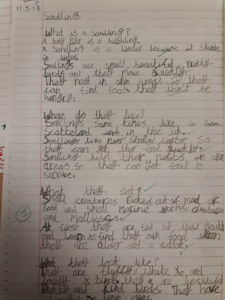 This underneath  is what the same child did a year ago.
What fantastic progress!!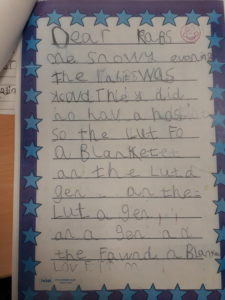 Religious Education
This term we are doing about precious things of our own and the precious tings associated with the church.  
Topic
In Topic we are doing all about animal adaptations and looking particularly at butterflies. Our book in English in weeks 3-6 is called 'Amazing Animal Journeys' and in the book it tells us about the amazing journey the Monarch Butterfly take when the migrate for summer. The children will be looking after and growing their own caterpillars into butterflies and then setting them free when they are fully grown. The children will be writing reports about how to look after the butterflies and writing reports about how to best care for them. This also links to our trip to Triopical World where we will see plenty more exotic creatures.
Maths
The children did so amazingly well in their maths SATs that we are now moving onto year 3 work and preparing the children for the transition into year 3. Children's GAPs from the SATs will be assessed and these will be plugged to give my class every chance of success in year 3 and beyond. 
Here is a picture from one of year 2's maths books which shows just how hard they have been working. Super job!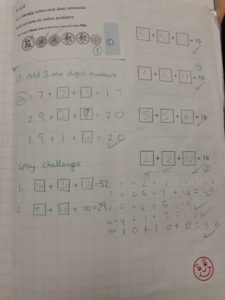 PE –Our PE sessions will be on a Tuesday. We are going to be doing multi sports this half term to get us all ready for sports day. 
Homework
A homework task for maths and spelling will be sent out each week on a Friday, this is expected to be returned the following Thursday. This homework is so important on the lead up to SATs since the children need to be practicing as much as possible.
The children will be entered into my homework prize draw when they bring in their homework. They will get a raffle ticket in the prize draw on Friday. You have to be in it to win it! Please do your homework every week.
Reading books are sent home every day and we would really appreciate parents signing the reading log every night after you have heard your child read. Parents help with homework is extremely valuable as it will provide your child with the best support alongside the teaching in class.
Base Groups
The children will continue in their BASE group from Year 1. It is important that they are green in all areas to contribute to the success of their group. The children can collect BASE points for their team by displaying green behaviours. A new special BASE point has also been introduced this year.