Welcome to Year 2
Autumn 1
We use Class Dojo in Year 2! This means parents can see what we are up to in class on our story, send messages to me and see on a daily basis how their child is doing via a daily report.
Last year I had 100% of parents using Dojo so hopefully everyone will download the app this year! ClassDojo! https://www.classdojo.com/onehundred/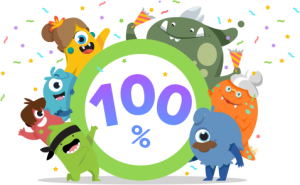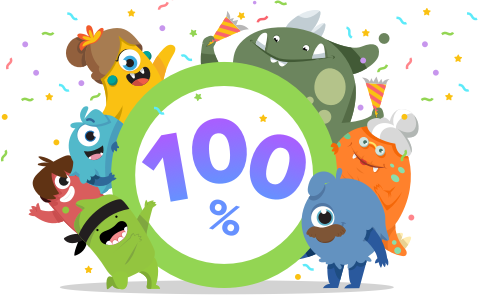 The children will get a Dojo point every time they do something impressive at school.
We use Class Dojo in Year 2 and all our parents are connected via the app. This allows our families to be fully involved in everything that happens in Year 2. The children are proud of their achievements and want to share these with their families via the app.
The children in Year 2 are not just working really hard in their lessons this term but we are doing lots of extra activities to learn important skills. The children use sign language to answer the register. Children in Year 2 are given responsible jobs to help our classroom community for example taking the register, handing out the snack and milk, sharpening pencils and much more.
Our Provision Area 
In KS1 this year we are making full use of our shared area by having continuous provision every afternoon. The children will be investigating and taking initiative as they self-regulate their learning in the shared area. There will be plenty of opportunities for children to enhance their skills while covering vital elements of the national curriculum. Take a look at our pattern making area:
We also have a water and sand area inspired by our theme of Explorers thinking about the ocean.
What we have been up to so far….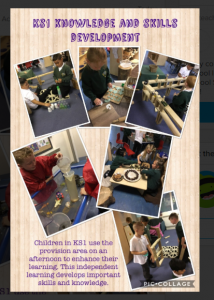 Reading in KS1
Reading is hugely important in Year 2 and the children should be doing it at least 4 times a week if not every night. From September children in Year 1 and Year 2 will be working towards achieving their own reading collector badge. It is expected that every child reads at least four times a week at home and has their reading log signed each time. If you read four times a week and have your reading log signed at home by the end of the week you will receive a sticker for your individual badge. Collector badges are a great way for pupils to save their mini sticker rewards: They can attach the badge to their uniform and wear their collection with pride. Children's badges will be displayed on a pin board in the classroom. Only when the badge is full does the child get to wear it with pride before getting a new colour badge on the pin board.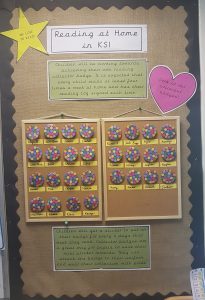 Our first week winners….

Click here for our KS1 Reading information letter: Reading at Home 1
Fantastic Progress!
Below are some fantastic examples of the work year 2 did last year and the amazing progress the children have made in only one year!!
Below is what a child last year did at the start of year 2 and then at the end.
What fantastic progress!!
Start of Year 2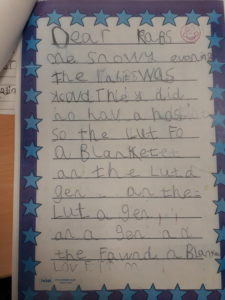 End of Year 2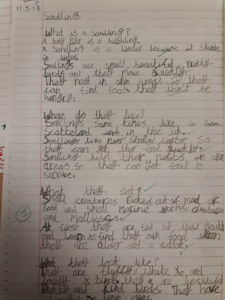 English
The Papaya That Spoke
We will be doing a Talk for Writing piece in English where we learn a text together out loud with actions, draw story maps, innovate it and then use it to create our own stories.
Here is our story map and the papayas we will taste.
We will then use the story mountain structure to plan our own stories.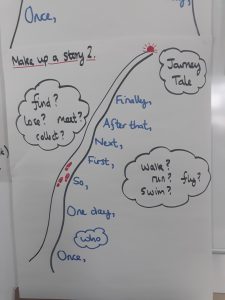 Maths
The children have already completed two units on Place Value. We will be focusing and building on our knowledge of number and beginning to add and subtract two digit numbers. We will be using base 10 as a manipulative to help us with our place value work as well as counters and bead strings. The children will become increasingly independent throughout this first term.
Here is a picture from one of year 2's maths books from last year to show our expectations for this coming year.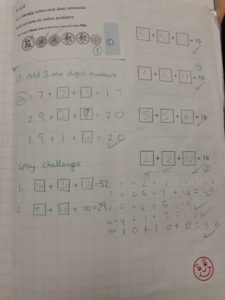 Topic
'What is an Explorer?'
We will be looking at the history of Captain James Cook who was an explorer on the seas. We will be learning about who he is, why he is important and what he found out. We will be using the project in a cross-curricular way by investigating ships and boats by making our own and conducting floating tests.We will be investigating suitability of materials in Science which will link with our topic. We will have lots of book available for the children to investigate and read when spending time in continuous provision on an afternoon. A great resource for children to use at home is: https://www.dkfindout.com/uk/history/explorers/captain-cook/
which will allow them to explore Captain Cook's ship which he used to explore the Pacific Ocean. As part of our Topic we will be doing some geography too understand where Captain cook sailed. We will be learning the worlds seven continents and five oceans mainly through learning songs and using maps.
Science
Properties of Materials
Children will be considering the properties of a range of materials, they will be considering materials suitability and using materials to do experiments to see which materials make the best boat. This links to the work we are doing in Topic about James Cook the explorer thinking about his boat we will be making some boats of our own and seeing which materials are more suitable. Year 2 children will be expected to explain why they believe certain materials are better considering their properties.

Religious Education
We are doing the creation story in R.E, the children are developing an understanding about the start of the Bible

How beautiful on the mountains are the feet of those who bring good news, who proclaim peace, who bring good tidings, who proclaim salvation, who say to Zion, "Your God reigns!"
P.E
Our PE sessions will be on a Thursday afternoon. We are going to be doing dance this term. Please ensure your child has a P.E kit in school on Thursday so they can take part. 
Homework
A homework task for maths and spelling will be sent out each week on a Friday, this is expected to be returned the following Thursday. This homework is so important especially because year 2 is an important SATs year. The children need to be practicing as much as possible.
Reading books are sent home every day and we would really appreciate parents signing the reading log every night after you have heard your child read. Parents help with homework is extremely valuable as it will provide your child with the best support alongside the teaching in class.
Base Groups
The children will continue in their BASE group from Year 1. It is important that they are green in all areas to contribute to the success of their group. The children can collect Dojo points for their team by displaying green behaviours.