Welcome To Year 6!
Mr Cheater
Mrs Smith
Welcome to Year 6. This is a very busy year in which we prepare children for their SATs tests and transitioning to high school. Myself and Mrs Smith are delighted to be teaching Year 6 and we have so much exciting learning to do together and we hope to do this whilst developing children ready for their next step in education when they move on at the end of the year.
I hope that the information below gives you a good overview of the work that we will do throughout the year as well as the ways you can support your child as they make as much as progress as possible in Year 6. As always, if you have any questions or queries, please do not hesitate to ask before or after school.
The Spring term
This term we are carrying on with our big question, 'How can an individual shape the world around them' by looking at some of the world's best discoveries. We start the term looking at how Howard Carter, supported by Lord Carnarvon, ventured into the Valley of the Kings to discover Tutankhamen's tomb. We then move on to John Lloyd Steven's discovery of Ancient Maya ruins in Central America. This knowledge organiser includes some of the key dates, people and vocabulary that your child will be learning this term: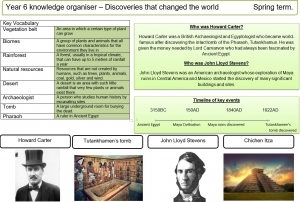 In maths this term, we will be finishing our fractions, decimals and percentages unit. We then look at algebra, ratio and position and direction before consolidating all of our learning in the run-up to the SATs.
Supporting at home
Please read with your child for 15 – 20 minutes every night. Even though the children in Year 6 may be able to read with some fluency, it is important they talk about the vocabulary and think of strategies for working out the meaning of these words. Also, asking them questions to check their understanding is a good idea.
We now use accelerated reader which is a very exciting opportunity for children to make excellent progress in their reading ability. Your child will have a book that is the perfect level for their reading ability. After each book, children take a quick quiz on an iPad. If they pass this test, they gain points and words are added to their total word count. This system is perfectly designed to help children stay focussed on their reading and improve their ability quickly. If your child manages to get to 1,000,000 words read, they will join our extremely exclusive club in the 'Millionaire's club' on the wall in the KS2 shared area. At the last time of checking, the child with the most words was fast approaching this target with over 700,000 words.
Every child now has login details to access times tables rockstars. Please encourage children to use this whenever they get a chance. A quick, deep understanding of times tables is extremely useful for year 6 children when sitting their maths SAT.
Preparing for our SATs
In May, the children will be completing their Key Stage 2 SATs papers. In preparation for this, we will send home SATs revision guides and workbooks in the Spring term. There will also be weekly homework which covers spelling, grammar, maths and reading.